Yesterday , defunct gold collectible company, Menzgold, in a press release revealed it had drawn out plan to pay off all its clients whose monies have been locked up with the company.
According to the company, "Payments shall be made strictly following a "reverse mechanism", which implies from the last day (month) of our business operations to the very first day when our business commenced. Thus; from 12th September 2018 to 18th March 2013."
In point four of their payment plan, Menzgold stated, "Claims shall be settled in full and shall be subject to an invitation from our legal team;Kwame Akuffo & Co. Unlimited , strictly following the below indicated scheduled hierarchical order,all to be settled within 36 months starting from December 2019: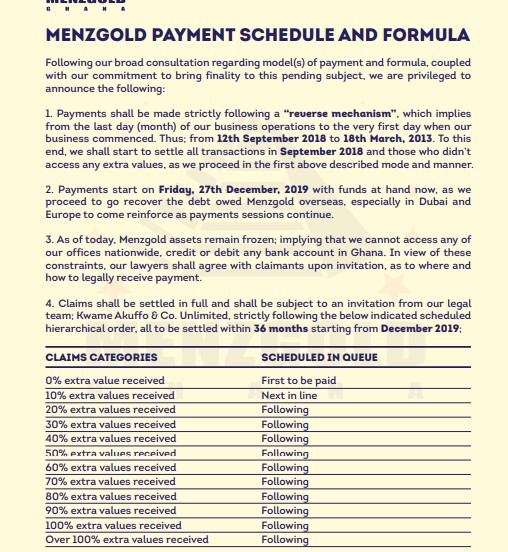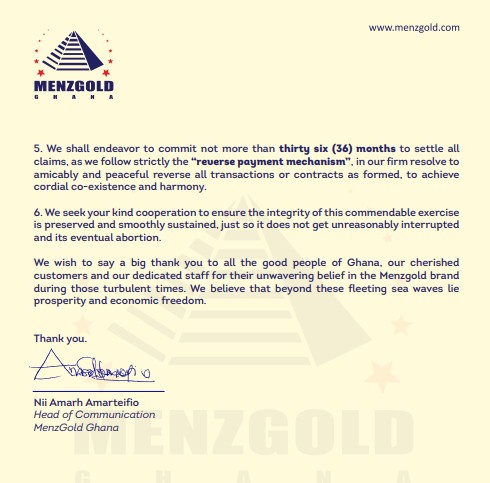 Clients of Menzgold who have their monies and investment locked up with the company ,upon seeing the release were a bit hopeful that their year long cries were about to be answered and were finally going to receive their money.
Unfortunately for the clients of Menzgold , the lawyers , that is, Kwame Akuffo & Co. Unlimited has said contrary to the Menzold statement, they do not have the capacity to carry out the said exercise. They have however, instructed Menzgold to effect the payment through a third party so they are insulated from any breaches.